Let's Talk About It
Amy Lively is an author, speaker, and Bible teacher whose books help us find faith for hard time – then share it with a neighbor. A comfortable and confident podcast guest and speaker for your event or retreat, your conversation will feel like having coffee with a good friend.
Inviting neighbors of all ages and faith backgrounds to a Neighborhood Cafe Bible study in my home ensured that I taught about the Bible in simple, relatable terms. Even now, I like to speak like we're having coffee at my kitchen table – comfortable, close, and conversational. Together, we'll open our ancient Scriptures to find hope for today.
Many people love to hear about my new book, Can I Borrow a Cup of Hope? or How to Love Your Neighbor Without Being Weird. I speak on a variety of topics to help us flourish in our faith in Jesus.
From podcasts, small gatherings and large groups, my speaking and teaching are appropriate for multi-denominational, multi-generational audiences. I am accustomed to teaching adults from Baptist, Episcopal, Lutheran, Methodist, Catholic, Vineyard, Presbyterian, Nazarene, Church of Christ and Church of God churches and non-denominational congregations.
Please contact me to talk about your heart for your congregation and community! I will work with your goals, theme and budget to provide a moving message for your group.
Can I Borrow a Cup of Hope?
When the pain and problems of life barge in, hopes and dreams run out. In these uncertain seasons of personal crisis, national chaos, and global catastrophe, it's easy to wonder if life will ever be anything but sorrow and despair.
The apostle Peter knows exactly what it's like when hope is gone. He watched as his Hope was arrested, crucified, and buried. And Peter himself failed almost every test of his faith, even with Christ right in front of him. But he also knows that God is faithful and true, carrying us through our harshest suffering and redeeming our heaviest regrets. 
How to Love Your Neighbor
How to Love Your Neighbor Without Being Weird helps you overcome fears about getting to know your neighbors and sharing your faith. You'll learn simple, practical ways to get to know your neighbors, using your God-given personality.
As you venture out of the comfort of your living room and into the lives of your neighbors, you'll form authentic friendships, create a safer community, and find fulfillment in obeying Christ's #2 command. Appropriate for retreats or events.
Are you looking for a guest speaker for your podcast, event or retreat?
I'd love to talk with you about your mission and goals, and learn about the women in your congregation and community. Signed book giveaways are available to bless your podcast listeners and I love to contribute to door prizes for speaking events. 
Please submit this form to start the conversation, and I will reply to you shortly.

Audio Samples
In the studio with Focus on the Family, Jim Daly and John Fuller shared their struggles cultivating community with their neighbors.
5 Ways to Survive the End of the World
When Your Marriage & Your Faith Are in Crisis
Can I Borrow a Cup of Hope?
Sunday God Meets Monday Mom Podcast
How Do I Talk to My Kids About My Past?
How Our Comeback Stories Give Others Hope
Loving Your Actual Neighbors
Finding Faith in Hard Times
Significant Woman Podcast with Carol McLeod
That Darned Proverbs 31 Woman
If you've spent any time at all in women's Bible studies, you've probably met that intimidating woman in Proverbs 31. I was shocked when she went viral in my Facebook video! She works happily from morning till night while her family cheers her on. She is generous, encouraging, carefree, and always kind. And she does not represent one real day in the life of one real woman. She does, however, give us a picture of a woman who serves God and loves others well. Along with her friends Martha and Lydia, these scriptural superwomen will show us the secret of hospitality and the true beauty of entertaining.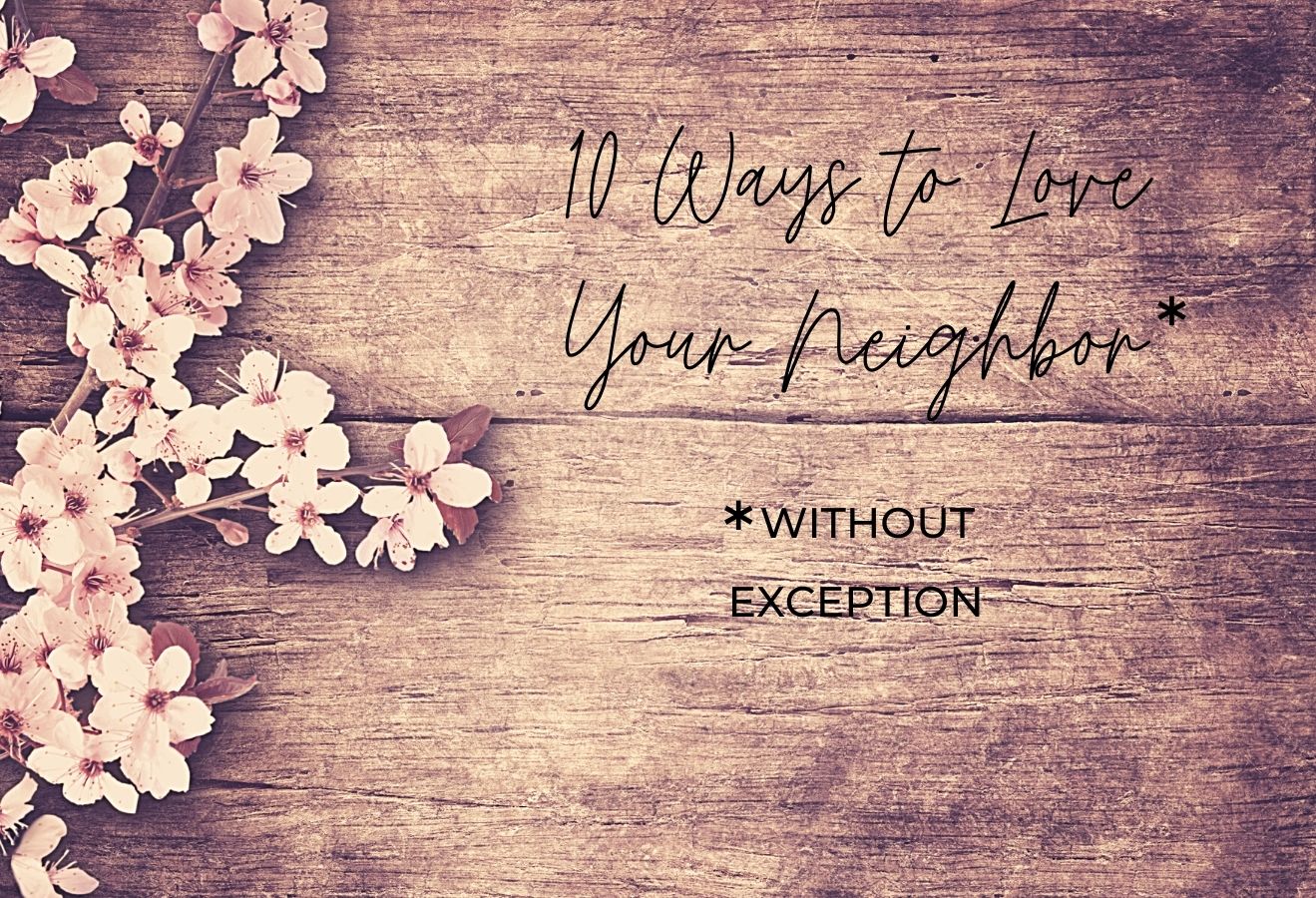 10 Ways to Love Your Neighbor*
There's no asterisk or exception clause to Christ's second-greatest commandment to love our neighbor (trust me, I looked hard). Somehow, some way, we have to bridge the gap between conviction about following this rule and having real relationships with the people God has carefully placed around us. Learn ten practical, adaptable ways to love your neighbor that won't feel weird to you or to them, whether you're an introvert or extrovert, if you have ten minutes to spare or ten months to plan, if you have unlimited funds or fifty cents, if you're crafty or Pinterest-impaired.
Amazing Graciousness
People marveled at the words of grace that Jesus spoke (Luke 4:22). I've also amazed people with what comes out of my mouth… sometimes it even surprises me!  Our deepest desires, secret thoughts, and volatile emotions erupt in words which can never be taken back that are either thoughtless and cruel… or they can be wise and redemptive. 1 Peter 4:11 challenges us, "Whoever speaks, let it be as one speaking the utterances of God." Practice when to shut up, how to listen up, and prepare to speak up so that others are built up.
Christmas Presence
We think we know the Christmas story—we've heard it a million times!—but as we read this story together with fresh eyes and soft hearts, we'll see the common cast of characters in an uncommon way. Jesus loved us—His neighbors—so much that he stepped down from Heaven to be with us on that first Christmas morning. We'll explore ways to step off our own front porch and go meet a neighbor at Christmastime, and give the gift of Christmas presence.
How to Share Your Faith
Here's how to share your faith with your neighbors: simply start in Genesis and explain the entire Bible all the way through to Revelation (don't forget the minor prophets!), and sprinkle in a little church history along the way. Walk them down the Roman Road, let them try on your Gospel Glove, and send them home with a fistful of tracts. Easy peasy!
Well, I guess that does sound hard. So, what exactly is this Gospel we're supposed to share? 1 Peter 3:15 tells us everything we need to know about how to share our faith in a single verse.
How to Change the World
I liked the idea of loving my neighbor more than the reality of loving my neighbor. I was happy to read my Bible and go to church, but I had every excuse in the book when it came to starting relationships on my street. Here's the best part about my excuses: They are all legit. I don't have time to love my neighbors—I don't know a single woman who does. I'm never going to have all the answers, someone will always have a nicer home than me. But when God commands us to love our neighbor, He will equip us with the ability to do it well. Together we will learn how to overcome our fears and excuses so we can change the world, one home at a time.
Showing us how to Hope Fully in the Lord was powerful, meaningful, and enriching to our faith. I loved the testimonies.
Can I Borrow a Cup of Hope? is very much like having a trusted friend speak hope into the hardest places of your life. Amy is a gifted teacher, and her words are just the right mix of clever, funny, and pro- found. Each chapter offers biblical support and tangible steps to help us walk away from hopelessness and toward whatever God has planned.
I was so very touched by your speaking. It was exactly what I needed when I needed it. Amy, your calm and loving voice and funny demeanor was refreshing and very uplifting.  It was so nice to hear this at a women's program! I loved you very much and you have given me the fire to send those little cards to my neighbors.
Amy is that friend that encourages you and exhorts you in the same breath. She will pick you up, dust you off, and encourage you to keep running with fresh perspective on the very real and rooted hope we have in Christ. Far from defining hope as a pie-in-the-sky, saccharine wish, Amy shows us a hope that holds fast in stormy seas.