Listening to my teaching is like having coffee at my kitchen table – comfortable, close, and conversational. My passion is exploring God's Word as a "How To" manual for loving Him and loving our neighbor. Together we dig deep into ancient Scripture to find lasting hope during difficult days. 
Your audience may be most interested in topics related to my two books, How to Love Your Neighbor Without Being Weird (Bethany House, 2015) and Hope Fully: How to Turn Uncertain Times into a Surprisingly Hopeful New Normal (Kregel Publications, 2023). I speak on a variety of topics to help women flourish in their faith in Jesus. 
Inviting neighbors of all ages and faith backgrounds to a women's Bible study in my home taught me to explain the Bible in simple, relatable terms. I am also experienced speaking to large crowds. 
While my heart is closest to the wondering or wandering, my speaking and teaching are appropriate for multi-denominational, multi-generational audiences. I am accustomed to teaching women from Baptist, Episcopal, Lutheran, Methodist, Catholic, Vineyard, Presbyterian, Nazarene, Church of Christ and Church of God churches as well as non-denominational congregations.
Please contact me to talk about your heart for your neighborhood and congregation! I will work with your goals, theme and budget to provide a moving message for your group.
Hope Fully
In the middle of a global pandemic, in the midst of national chaos and worldwide social unrest, we find ourselves in our own mess—earthshattering, heartbreaking events right in our own homes.
When we're being sifted and shaken, our intimate suffering far outweighs the sensational headline of the day.
These are the moments when our faith in God collides with real life. Where do we go to get our "old normal" back? Appropriate for retreats or events.
How to Love Your Neighbor
How to Love Your Neighbor Without Being Weird helps you overcome fears about getting to know your neighbors and sharing your faith. You'll learn simple, practical ways to get to know your neighbors, using your God-given personality.
As you venture out of the comfort of your living room and into the lives of your neighbors, you'll form authentic friendships, create a safer community, and find fulfillment in obeying Christ's #2 command. Appropriate for retreats or events.
Audio Sample
In the studio with Focus on the Family, Jim Daly and John Fuller were gracious hosts as they shared their own struggles and joys cultivating community with their neighbors. 
Showing us how to Hope Fully in the Lord was powerful, meaningful, and enriching to our faith. I loved the testimonies.
I was so very touched by your speaking. It was exactly what I needed when I needed it. Amy, your calm and loving voice and funny demeanor was refreshing and very uplifting.  It was so nice to hear this at a women's program! I loved you very much and you have given me the fire to send those little cards to my neighbors.
Christmas Presence
We think we know the Christmas story—we've heard it a million times!—but as we read this story together with fresh eyes and soft hearts, we'll see the common cast of characters in an uncommon way. Jesus loved us—His neighbors—so much that he stepped down from Heaven to be with us on that first Christmas morning. We'll explore ways to step off our own front porch and go meet a neighbor at Christmastime, and give the gift of Christmas presence.
Amazing Graciousness
People marveled at the words of grace that Jesus spoke (Luke 4:22). I've also amazed people with what comes out of my mouth… sometimes it even surprises me!  Our deepest desires, secret thoughts, and volatile emotions erupt in words which can never be taken back that are either thoughtless and cruel… or they can be wise and redemptive. 1 Peter 4:11 challenges us, "Whoever speaks, let it be as one speaking the utterances of God." Practice when to shut up, how to listen up, and prepare to speak up so that others are built up.
10 Ways to Love Your Neighbor*
There's no asterisk or exception clause to Christ's second-greatest commandment to love our neighbor (trust me, I looked hard). Somehow, some way, we have to bridge the gap between conviction about following this rule and having real relationships with the people God has carefully placed around us. Learn ten practical, adaptable ways to love your neighbor that won't feel weird to you or to them, whether you're an introvert or extrovert, if you have ten minutes to spare or ten months to plan, if you have unlimited funds or fifty cents, if you're crafty or Pinterest-impaired.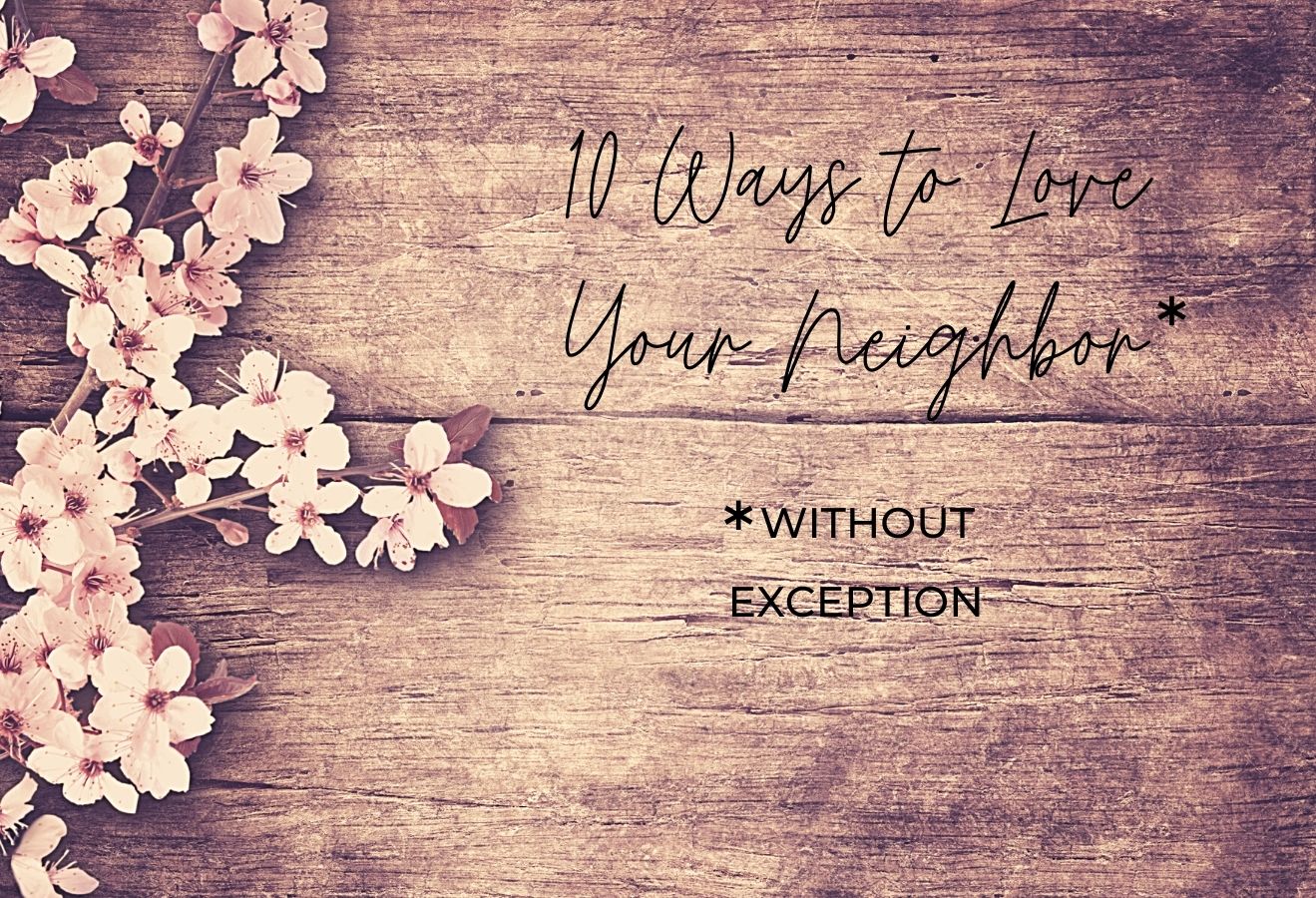 How to Share Your Faith
Here's how to share your faith with your neighbors: simply start in Genesis and explain the entire Bible all the way through to Revelation (don't forget the minor prophets!), and sprinkle in a little church history along the way. Walk them down the Roman Road, let them try on your Gospel Glove, and send them home with a fistful of tracts. Easy peasy!
Well, I guess that does sound hard. So, what exactly is this Gospel we're supposed to share? 1 Peter 3:15 tells us everything we need to know about how to share our faith in a single verse.
How to Change the World
I liked the idea of loving my neighbor more than the reality of loving my neighbor. I was happy to read my Bible and go to church, but I had every excuse in the book when it came to starting relationships on my street. Here's the best part about my excuses: They are all legit. I don't have time to love my neighbors—I don't know a single woman who does. I'm never going to have all the answers, someone will always have a nicer home than me. But when God commands us to love our neighbor, He will equip us with the ability to do it well. Together we will learn how to overcome our fears and excuses so we can change the world, one home at a time.
That Darned Proverbs 31 Woman
If you've spent any time at all in women's Bible studies, you've probably met that intimidating woman in Proverbs 31. She works happily from morning till night while her family cheers her on. She is generous, encouraging, carefree, and always kind. And she does not represent one real day in the life of one real woman. She does, however, give us a picture of a woman who serves God and loves others well. Along with her friends Martha and Lydia, these scriptural superwomen will show us the secret of hospitality and the true beauty of entertaining.
Are you looking for a speaker for your next event or retreat? 
I'd love to talk with you about your mission and goals, and learn about the women in your congregation and community.
Please submit this form to start the conversation, and I will reply to you shortly.